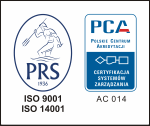 ISO 9001
To meet the demands of our customers and in order to achieve the highest quality of our products, in 2006 we introduced a quality management system which complies with ISO 9001 Quality System. We have always made the effort to ensure that the quality and efficiency of our work was at the highest level and our actions were aimed at achieving the best results.
ISO 14001
In 2014 we received a certificate confirming the compliance of the implemented environmental management system with ISO 14001 Quality System. We make every effort to implement formal environmental requirements relating to our business. Any changes or modifications in technology that are made, minimize adverse effects on the surrounding environment.

Business Fair Play
The idea of the "Przedsiębiorstwo Fair Play" program is to encourage all companies in Poland to ethical behavior and introduce appropriate changes not only in the internal organization of work, but also to the development of positive relations with the local community and care for the environment.

We participate in the "Przedsiębiorstwo Fair Play" program continuously since 2009.